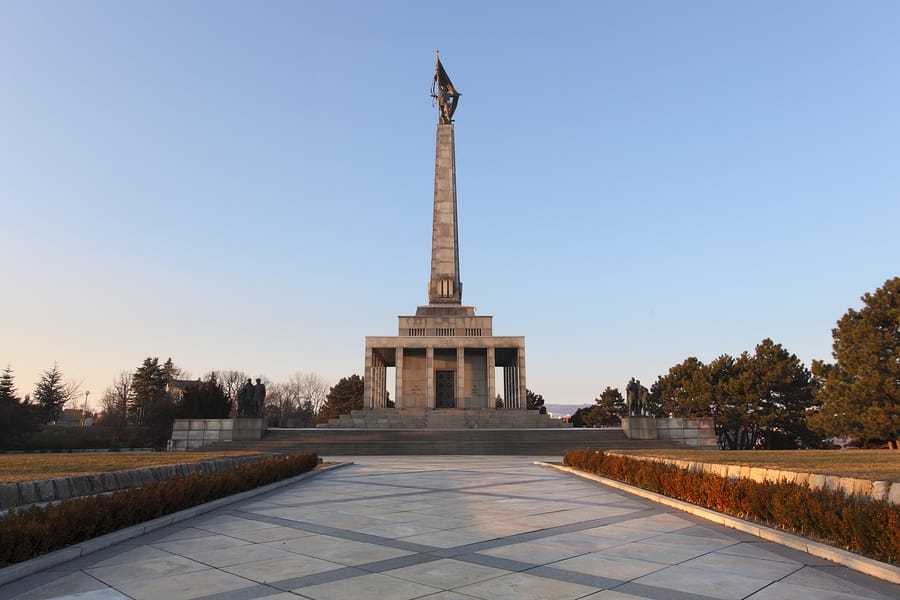 It towers high above the city. A sought-out oasis of silence associated with piety and reverence to nearly 6,000 soldiers who fell during the battle of Bratislava in the last weeks of the 2nd World War.
Its main pylon is 39 meters high. An 11-meter statue is towering at its peak, depicting a Soviet soldier with a winning flag.
Alexander Trizuljak is the author of the statue. In the years 1957-60, when the construction of the monument was realized, only "artistic direction of socialist realism" was permissible. It closely followed the style of Soviet architecture. To those who remember, it's a reminder of violent occupation of our country in 1968, which baffled people's hopes to change the political system for more than 20 years.
A beautiful view of the city opens up from Slavin. Nearby is Horsky park, where you can also sit comfortably and relax.
How to get there
Walk to Slavin from the Old Town is nice and easy. It can be completed at any time of year and with children.
BY CAR: from the Old Town, along the Pažického street to Slavin
BY BUS:
from the main railway station lines: 93, 32, X13
From the bus station lines: 21, 147, 203, 206, 208, X13