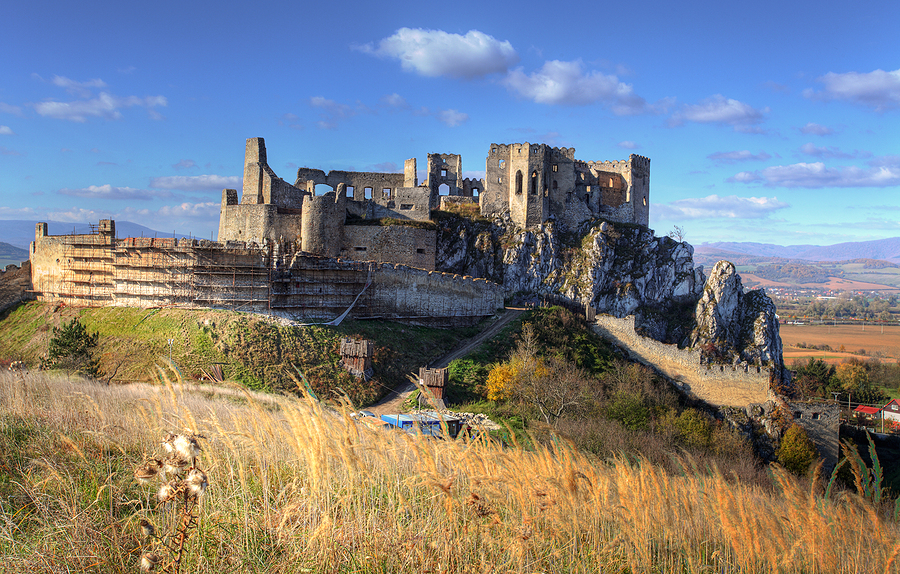 Standing on a steep high cliff above Vah – the longest river of Slovakia, magnificent ruins of Beckov castle are a dominant feature on the horizon.
Beckov Castle is one of the oldest castles (1208!) of former Austro-Hungarian Empire. The legend has it that the castle was built on demand of Duke Ctibor for his clown Becko.
Among the most famous owners of the royal castle was King Matus Cak of Trencin (late 13th century), who reconstructed it extensively. Visitors can see remains of rich Gothic and Renaissance decorations, stone water tanks, water well, Gothic staircase in the castle chapel and other interesting historical architectural elements. The castle features a magnificent view of the slopes of White and Little Carpathians.
To learn more about the history of the Beckov castle, visit the town museum below the castle, in the completely restored manor house of the Ambro family, which features historic furniture from aristocratic residences, paintings and portraits and finds from the castle.
How to get there
The 5 min walking path to the castle is very well maintained with mild ascent suitable for kids and elderly.